Fragrance House :
Narciso Rodriguez
Fragrance Name :
For Him
Gender : Men
Official Site :
Narciso Rodriguez
Prologue
:
Ketertarikan saya pada Narciso Rodriguez for him adalah karena nama brand-nya yang begitu provokatif dan menggoda
Narciso
, doesn't ring a bell, how about
Narcissism ???

Karena harganya yang mahal, maka saya urung membelinya hingga suatu saat suplier saya menawarkan 5 vial Narciso Rodriguez For Him, tanpa pikir panjang langsung saya ambil semua vialnya. Dan mulailah saya berpetualang menelusuri setiap notes dari Narciso Rodriguez for him.
Review
: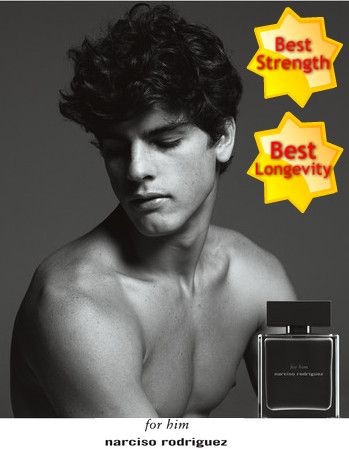 Narciso Rodriguez for him ini termasuk dalam jenis parfum Aromatic-Fougere. Sebelum menyemprotnya saya mengharapkan bahwa wanginya akan kompleks dan sesuai dengan selera hidung saya. Semprotan pertama pun dimulai, dan reaksi yang ditimbulkan sangatlah mengejutkan saya, wangi spicy-nya begitu kuat dan kompleks juga tidak sesuai dengan selera saya. Narciso Rodriguez for him adalah satu dari sedikit parfum yang wanginya Original,
Unique yet Very Very Brave.
Narciso Rodriguez for him ini pada Top Notes tersusun dari Violet Leaf dan Aromatic note, wangi violet leaf blend well dengan aromatic note menciptakan nuansa floral aromatic yang sangat kuat. 10 menit kemudian mulai beralih ke Heart Notes yang terdiri dari White musk, pada heart notes ini sudah mulai tercium nuansa kuat spicy dari Base Notes yang berasal dari patchouli, membuat aroma white musk menjadi samar. Base Notes terdiri dari patchouli dan amber, perpaduan yang begitu solid sehingga menimbulkan nuansa spicy yang berkesan deep warm dan cenderung tercium dari 1 jam pertama hingga 16 jam sesudahnya,
totally disaster if you dont like this kind of scent
.
Kesan yang didapatkan dari pengguna Narciso Rodriguez for him ini adalah pria yang
Very Confident, Passionate, Masculine, a Hard worker who seek challenge in his life The Conqueror
. Imagine
Jason Statham
as Jensen Ames in
Death Race
to wear Narciso Rodriguez for him saat beradu dalam balapan maut di penjara, stating to his opponent,
I will win this bloody race, you f*cking bastard
, definitely Narciso Rodriguez for him will lure his beautiful navigator with his overflowing sexual appeal,
Provocative
.
Daya tahan Narciso Rodriguez for him ini sangat bagus, berkisar antara 16+ jam, pertama disemprot pada jam 09.00 pagi dan digunakan untuk beraktifitas di ruangan cold office dengan suhu di bawah 22 derajat celcius dan base notes masih tercium samar hingga pukul 02.00 dini hari keesokan harinya,
heat me up all day long, Energizing.
Termasuk jenis parfum Body Heat Activated dan cocok digunakan untuk Evening, Cold Office, Romantic, Special Occasion. Untuk kisaran umur cocok digunakan pada usia 25-40 tahun.
Narciso Rodriguez for him ini berhasil mendapatkan awards dari
8th annual basenotes awards (2008)
untuk kategori
Best New Fragrance : Narciso Rodriguez for him
.

Usually when I encounter such unique and brave fragrance, I will give three shot before give it a full review, just to explore it a bit further and to see if I could learn to love it the way it is. At first and second shot I still don't like Narciso Rodriguez for him, the third shot I try to apply it very lightly only in a cold climate,
finally I fell in love with Narciso Rodriguez
.
The secret is to apply it lightly just a little drop, di leher, lengan kanan kiri, nadi dan dada, jangan lebih dari 4 semprotan, di semprot agak jauh sekitar jarak 15-20 cm dari tubuh, atau bisa juga agar wanginya lebih soft semprotkan di telapak tangan dan usapkan di dada, leher dan telapak tangan, Overrall jangan lebih dari 1ml untuk 1 kali pemakaian,
then you are good to go for all day long challenging and conquering the world.

Very Confident, Passionate, Masculine, Provocative. Worth to buy if you have a lot of money to spend.

WARNING

: Sniff test before buy. USE WITH CAUTION (4 spray(1ml)) at max. under any circumstances no matter how gorgeous and handsome you are).

May The Scent Be With You, Happy Narcism….

Top Notes :
Violet Leaf, Aromatic Note
Heart Notes :
White Musk
Base Notes :
Patchouli, Amber
Scent Rate :

Scent Strength :
(Intense)
Scent Life :
(16+ Hours)
Recommended Age : Mature
Classification: Aromatic-Fougere
Recommended Use
: