Fragrance House :
Ralph Lauren
Fragrance Name :
Polo Blue
Gender : Men
l=Official Site :
Ralph Lauren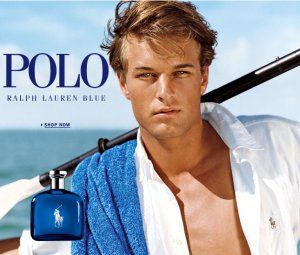 Review
:
Ralph Lauren Polo Blue termasuk dalam jenis parfum Aromatic Fougere. Top notes yang terdiri dari perpaduan Cavaillon melon, mandarin orange, a mouthwatering open, cucumber menyeruakkan kesegaran yang sparkling (sedikit menusuk hidung), aquatic. Semua notes di top notes blend dengan well, hingga hampir semua notes dapat tercium dengan cukup jelas kecuali untuk Cavaillon melon yang tersamar oleh cucumber dan mandarin orange.
Heart notes terdiri dari geranium, basil, sage absolute yang memberikan kesan sweet dengan masih menyisakan aroma aquatic dan citrus yang membuat kita ingin menghirup aromanya lebih dalam,
Intoxicating.

Base notes terdiri dari light woods, musks, suede memberikan kesan woody yang light warm yang masih berpadu dengan kesegaran yang tersisa dari top notes.

Ralph Lauren Polo Blue ini mendapatkan
Basenotes Men's Fragrance and Grooming Awards 2004
sebagai
Best Fragrance for daywear
.

Kesan yang didapatkan dari pengguna Polo Blue ini adalah pria muda yang
dinamis, full of spirit, confidence, modern
dan
Elegant
. Sangat cocok digunakan di pantai, akan membuat anda merasa segar saat bermain voli pantai di tengah teriknya matahari, deburan ombak dan hembusan angin.

Dapat juga digunakan secara Casual atau pada Cool Office. Figur yang tepat menggunakan Ralph Lauren Polo Blue adalah Matthew Fox a.k.a. Jack Shephard Serial Lost - saat terjebak di pulau misterius yang hanya dikelilingi oleh luasnya lautan. Daya tahan parfum ini sedang saja, berkisar antara 6-8 jam, pertama disemprot pada jam 09.00 dan pada Jam 16.00 Polo Blue mulai menghilang dan hanya tercium samar.
Fresh, Intoxicating, Dynamic, Confidence, Modern, Elegant. May The Scent Be With You.

Top Notes :
Cavaillon melon, mandarin orange, a mouthwatering open, cucumber
Heart Notes :
geranium, basil, sage absolute
Base Notes :
light woods, musks, a suede note
Scent Rate :

Scent Strength :
(Moderate)
Scent Life :
(6-8 Hours)
Recommended Age : Mature
Classification : Aromatic Fougere
Recommended Use
: