Fragrance House :
Ralph Lauren
Fragrance Name :
Polo Black
Gender : Men
Official Site :
Ralph Lauren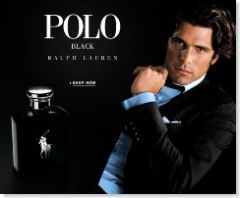 Review
:
Ralph Lauren Polo Black termasuk dalam jenis parfum Woody Aromatic. Top notes terdiri dari perpaduan Iced Mango, Tangerine Aldehyde, Lemon, Sage, Water Fruits. Menyeruakkan dengan kental campuran iced mango dan sedikit nuansa spices yang berasal dari campuran tangerine aldehyde dan sage,
makes you wanna take a deep breath of this pleasant scent, Aromatic and Very Sensual.
Heart Notes terdiri dari Silver Armoise, Sparkling Liquid, Accord, Calone, Hedione yang semakin menegaskan nuansa woods yang spice dan menyamarkan aroma iced mango, satu hal yang saya sayangkan karena Ralph Lauren tidak mempertahankan nuansa iced mango yang sangat saya sukai, tapi malah menyamarkannya secara perlahan dengan nuansa woods dan spice.

Base Notes terdiri dari Sandalwood, Patchouli Noir, Timberol, Tonka Bean. Iced mango mulai menghilang dan digantikan dengan nuansa woods + spice yang cukup kental dan warm.
Kesan yang didapatkan dari pengguna Polo Black ini adalah pria yang
elegant, sensual and romantic
. Figur yang tepat menggunakan Polo Black adalah
Adrian Pasdar
a.k.a
Nathan Petrelli
serial
Heroes
. Daya tahan parfum ini sedang saja, maksimal 6 jam, termasuk jenis parfum yang
stay close to the skin
, artinya bukanlah jenis parfum yang akan mudah meninggalkan jejak dibelakang saat anda melintas atau membuat circle scent disekeliling anda, agar aromanya tercium maka orang lain harus berada dalam jarak yang cukup dekat dengan anda sehingga menimbulkan kesan misterius. Lebih cocok digunakan di malam hari atau pada candle light dinner, dijamin wanginya akan membius teman wanita anda.
Very Sensual, Elegant, Mysterious, Romantic. May The Scent Be With You.

Top Notes :
Iced Mango, Tangerine Aldehyde, Lemon, Sage, Water Fruits
Heart Notes :
Silver Armoise, Sparkling Liquid, Accord, Calone, Hedione
Base Notes :
Sandalwood, Patchouli Noir, Timberol, Tonka Bean
Scent Rate :

Scent Strength :

(Moderate)
Scent Life :

(6 Hours)
Recommended Age : Mature
Classification : Woody Aromatic
Recommended Use
: