Fragrance House :
Sarah Jessica Parker
Fragrance Name :
Lovely
Gender : Female
Official Site :
Jessica Parker
Reviewer :
Ina
(Kontributor)
Editor :
donny
(owner
donny.blogdetik.com
)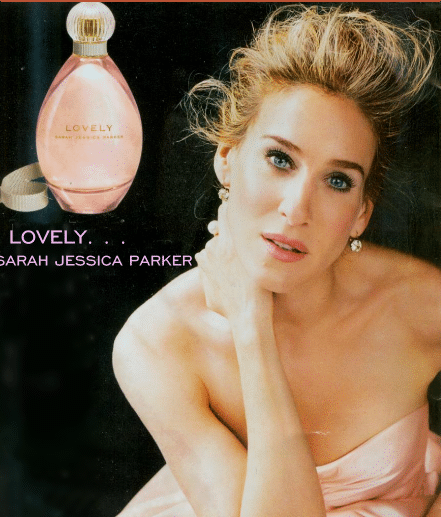 Review
:
Lovely adalah perfume pertama yang dilaunch oleh Sarah Jessica Parker (Sex and the City) pada tahun 2005, hasil kerjasamanya dengan Coty Inc. Lovely termasuk dalam jenis floral perfume seperti Bvlgari Voille de Jasmine, Hermes Kelly Caleche, etc.
As usual, the ritual begin with sniff from the nozzle then spray it on my wrist pulse. At my first sniff, scent of Lovely didominasi oleh kesegaran citrus yang lembut, kombinasi antara Bergamot, dan Nectarine, berpadu dengan keharuman woody dari Brazillian Rosewood yang menghasilkan keharuman khas,
an essence described as a chic womens scent, with a touch of fantasy yang menjadi ciri dari fragrance ini. Yes, its instantly recognizable.
Setelah kira-kira 15 menit, keharuman woody dari Brazillian Rosewood melembut. Scent of freshness dari Lovely yang diperoleh pada Top Notes develops further into floral fresh scent dengan sentuhan keharuman Orchid and White Daffodils pada Heart Notes yang menghasilkan kesan
Elegance
dan
Charming
bagi pemakainya.
At the dry-down the
fragrance reveals a silky, timeless white amber fragrance
yang blends perfectly dengan Cedar, menguatkan kesan Feminine pada perfume ini. Sedangkan White Musk pada Base Notes menimbulkan sense of powdery perfume yang memberi kesan Classy. Sarah Jessica Parker Lovely ini memiliki nice sillage yang tergolong moderate and can be enjoy all day.
The scents smells as its name, Lovely. It suitable to be used in office hours, casual use, semi-casual date or gala dinner, but not warm enough to be used at night club party.
Daya tahan dari Sarah Jessica Parker lumayan bagus, berkisar antara 6-8 jam. Kesan yang diperoleh dari pengguna Sarah Jessica Parker Lovely ini adalah sosok yang
Feminine, Charming and Classy. Its scent makes the users feel classical beauty ala Lady from British yang memiliki kecantikan Classy yet Sophisticated. Its remind me the classical beauty of Anne Hathaway. Sarah Jessica Parker Lovely memang diperuntukan bagi semua golongan usia, like the ad campaign said, for women from 17 to 107. Its a very great fragrance. I hope you can enjoy it as much as I do.
May The Scent Be With You.

Top Notes : Nectarine, Bergamot, Rosewood, Lavender
Heart Notes : Patchouli, White Narcissus, Orchid
Base Notes : White Amber, Cedar Wood, White Musk
Scent Rate :

Scent Strength :
(Moderate)
Scent Life :

(6-8 Hours)
Recommended Age : All Ages
Classification : Floral-Woody
Recommended Use
: