Fragrance House :
Paco Robanne
Fragrance Name :
Ultraviolet
Gender : Men
Official Site :
Paco Robanne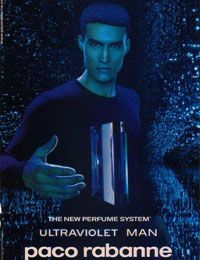 Review
:
Review kali ini adalah tentang parfum Paco Rabane Ultraviolet. Paco Robane Ultraviolet ini pertama disemprot pada jam 7.45 pagi, dan masi bertahan hingga pukul 14.00, sehabis mandi pagi pun wanginya masih tersisa sedikit di tubuh.
Saat disemprotkan pada nadi dan bercampur keringat, bottom notes lebih menonjol dengan wangi manis yang hangat. Wangi manis dihasilkan dari vanilla, sedangkan kesan hangat campuran dari beberapa kayu-kayuan seperti cedar, oakmoss dan sandalwood. Saat disemprotkan pada kemeja Heart notes lebih bertahan lama, wangi heart notes lebih nikmat dibandingkan bottom notes karena selain manis dan hangat juga ada campuran sedikit kesegaran dari crushed mint yang memang sudah banyak digunakan sebagai salah satu notes untuk membuat suasana dingin pada parfum.
Lebih cocok digunakan pada malam hari, penggunaan pada saat office hour lebih baik untuk office yang memiliki AC dingin.
May The Scent Be With You.

Top Notes :
bergamot and water fruits
Heart Notes :
crushed mint and spices
Base Notes :
cedar, oakmoss and sandalwood
Scent Rate :
Scent Strength :
(Moderate)
Scent Life :
(6-8 Hours)
Recommended Age : Mature
Classification : Woods
Recommended Use
: