Fragrance House : Gucci
Fragrance Name : Pour Homme II
Gender : Men
Official Site :
Gucci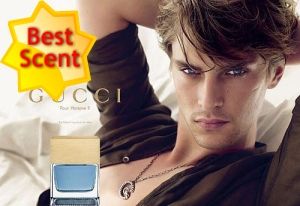 Review
:
Review kali ini adalah tentang parfum Gucci Pour Homme II. Pertama disemprot aromanya mengingatkan saya akan Burberry London, yang kental nuansa tobacco-nya, tapi dengan komposisi yang lebih light tanpa menghilangkan kesan sweet-nya. Salah satu jenis parfum yang membuat saya jatuh cinta pada hirupan pertama

Gucci Pour Homme II ini termasuk dalam jenis parfum Woods. Top Notes diawali dari kesegaran Bergamot dan Violet Leaves. Heart Notes terdiri dari Pimento, Black Tea, Cinnamon. Base notes Tobacco Leaves, Musk, Myrrh, Olive Wood. Notes yang cenderung tercium adalah campuran bergamot yang light, tobacco, black tea, wangi yang sangat menggoda
Terlebih lagi nilai positifnya adalah Gucci Pour Homme ini dapat mempertahankan nuansa wangi Heart Notes yang sangat menakjubkan untuk waktu yang cukup lama antara 5-6 jam, dan kemudian baru mulai beralih ke Base Notes yang cenderung menonjolkan aroma musk, myrrh dan olive wood.
Kesan yang didapatkan dari pengguna Gucci Pour Homme II ini adalah pria yang
Cool, Calm, Sexy
, jenis parfum yang dapat saya bayangkan digunakan oleh Orlando Bloom saat romantic date dengan pacarnya. Daya tahan parfum ini sangat bagus, berkisar antara 11-15 jam, pertama disemprot pada jam 07.15 pagi dan digunakan untuk beraktifitas di ruangan cold office dengan suhu di bawah 22 derajat celcius dimana tidak banyak berkeringat dan bertahan hingga pukul 19.00. Sangat dianjurkan untuk cool office dengan suhu sekitar 25-28 derajat Celcius, cold office, evening dan romantic. Untuk kisaran umur cocok digunakan pada usia 24-35 tahun.
Untuk perfume Lover's yang menyukai parfum yang bernuansa light tobacco seperti Burberry London, maka bisa dipastikan anda akan menyukai Gucci Pour Homme II ini, secara pribadi saya lebih memilih Gucci Pour Homme II dibandingkan Burberry London.
Worth to Buy
.
May The Scent Be With You
.

Top Notes :
Bergamot, Violet Leaves.
Heart Notes :
Pimento, Black Tea, Cinnamon
Base Notes :
Tobacco Leaves, Musk, Myrrh, Olive Wood
Scent Rate :
Scent Strength :
(Moderate)
Scent Life :

(11-15 Hours)
Recommended Age : Mature
Classification : Woods
Recommended Use
: