Fragrance House :
Davidoff
Fragrance Name :
Cool Water Woman
Gender : Female
Official Site :
Davidoff
Reviewer :
Ina
(Kontributor)
Editor :
donny
(owner
donny.blogdetik.com
)
Review
: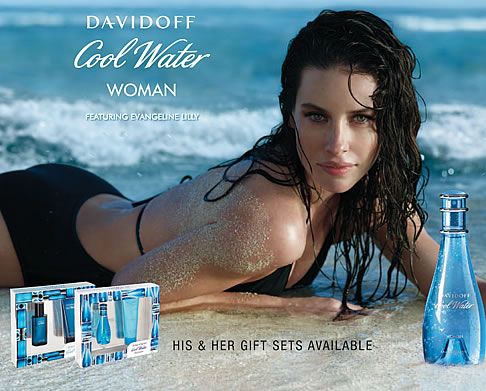 Davidoff Cool Water Woman pertama kali di-launch pada tahun 1996. Davidoff Cool Water Woman rides on the success of Cool Water for Men, one of the best seller men's perfume in Europe over the past several years.
This Eau de Toilette instills a feeling of simple, natural well-being.

Davidoff Cool Water Woman termasuk dalam jenis parfum Floral-Aquatic . Top Notes terdiri dari Pineapple, Melon dan Black Currant
which created an aquatic notes mingle with the impalpability of ozone. It creates clean and fresh scent, and I love it so much…

Flowery touches of water lily, hawthorn, lily of the valley, and jasmine add airy transparency yang soft banget pada Heart Notes. Komposisi pada Heart Notes ini membuat aroma kesegaran dari Pineapple, Melon dan Black Currant pada Top Notes menjadi lebih lembut. Vetiver, Sandal, Peach serta Blackberry pada Base Notes menguatkan nuansa floral light and fresh
-makes you feel calm and relax
.

Kesan yang didapatkan dari pengguna Davidoff Cool Water Woman ini adalah wanita yang
Passionate, Dynamic, Optimistic, Confidence and Modern just like the new ambassador Evangeline Lilly yang berperan sebagai Kate dalam Film Serial Lost
.
Sangat cocok digunakan pada cuaca panas dan suasana pantai, akan membuat anda merasa segar saat menikmati deburan ombak atau di kala melewati aktivitas harian yang melelahkan.
Daya tahan Davidoff Cool Water Woman ini bagus, berkisar antara 6 - 8 jam. Sangat cocok digunakan untuk Casual, Hot Weather, and Office Hours. Aroma Davidoff Cool Water Woman dapat disukai dan diterima oleh semua umur dari berbagai kalangan. Untuk kisaran umur cocok digunakan pada usia 22-35 tahun.
May The Scent Be With You.

Top Notes : Ozone, Pineapple, Melon, Black Currant
Heart Notes : Water Lily, hawthorn, Lily of the valley, Jasmine
Base Notes : Vetiver, Sandal, Peach, Blackberry
Scent Rate :

Scent Strength :
(Moderate)
Scent Life :

(6-8 Hours)
Recommended Age : College and Mature
Classification : Floral-Aquatic
Recommended Use
: