Fragrance House :
Azzaro
Fragrance Name :
Chrome
Gender : Men
Official Site :
http://www.azzaroparis.com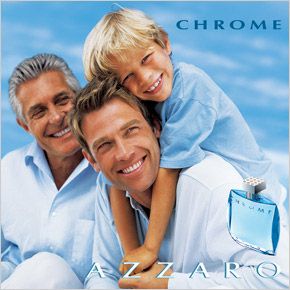 Review
:
Azzaro Chrome ini termasuk dalam jenis parfum Citrus/Fruity. Top Notes menyeruakkan aroma bitter sparkling citrus yang merupakan perpaduan dari Bergamot dan bitter orange serta transparent musk, Heart Notes terdiri dari Ivy, Lichne, Hedione, sedangkan basenotes terdiri dari Mate, Sandalwood, Rosewood.
Pertama disemprot sensasi sparkling citrus akan membuat anda merasa fresh, and calm, sparkling tapi tidak manis, bitter tapi dalam komposisi yang tepat, mampu bertahan sekitar 15 menit, lalu mulai beralih ke heart notes dengan masih menyisakan nuansa citrus, tapi tidak sparkling seperti pada top notes. 1 jam setelah penyemprotan maka beralih ke woody yang light karena blend naturally dengan citrus, untuk 7 jam mendatang lebih cenderung pada aroma base notes yang bernuansa woody dengan citrus yang light.
Kesan yang didapatkan dari pengguna Azzaro Chrome ini adalah pria yang
Maskulin, Calm, Ambititious but also Down to Earth
. Figur yang tepat menggunakan Azzaro Chrome adalah
Milo Ventimiglia
a.k.a
Peter Petrelli
– serial
Heroes
. Daya tahan berkisar antara 8-10 jam, jenis parfum yang termasuk Body Heat Activated, yang akan semakin menyeruakkan aromanya jika terkena keringat. Cocok untuk digunakan Casual dan aroma Azzaro Chrome ini cenderung dapat disukai dan diterima oleh semua umur dari berbagai kalangan

Untuk kisaran umur dapat digunakan untuk usia 22-40 tahun. Bagi Perfume Lover's yang menyukai Davidoff Coolwater, atau parfum lain yang bernuansa citrus, maka Azzaro Chrome adalah pilihan yang tepat.
Fresh, Calm, Down to Earth. May The Scent Be With You
.

Top Notes :
Bergamot, Bitter Orange, Transparent Musk.
Heart Notes :
Ivy, Lichen, Hedione.
Base Notes :
Maté, Sandalwood, Rosewood.
Scent Rate :

Scent Strength :
(Moderate)
Scent Life :

(8-10 Hours)
Recommended Age : Mature
Classification : Citrus / Fruity
Recommended Use
: