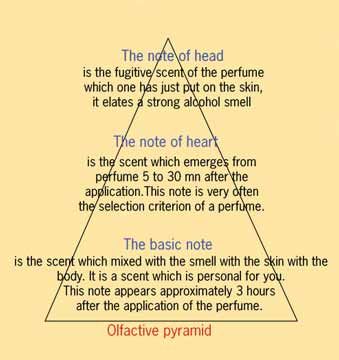 Top notes:
The scents that are perceived immediately on application of a perfume. Top notes consist of small, light molecules that evaporate quickly. They form a person's initial impression of a perfume and thus are very important in the selling of a perfume. Also called the head notes.
Heart notes:
The scent of a perfume that emerges just prior to when the top notes dissipate. The middle note compounds form the "heart" or main body of a perfume and act to mask the often unpleasant initial impression of base notes, which become more pleasant with time. They are also called the "heart notes".
Base notes:
The scent of a perfume that appears close to the departure of the middle notes. The base and middle notes together are the main theme of a perfume. Base notes bring depth and solidity to a perfume. Compounds of this class of scents are typically rich and "deep" and are usually not perceived until 30 minutes after application.
Taken from :
http://en.wikipedia.org/wiki/Perfume